Hello from Q
Well, Well, Well, Look at You..How long has it been?…does it really matter?
I"M HERE NOW!! HELLO WORLD! and it's not the same world as was back in 2018…
I don't even want to recap whats happened from then to now.
Lets just dive in.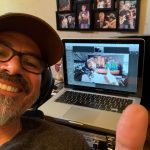 Well, aside from the obvious pandemic we are ALL going through, I guess the one topic I'd like to share would be my guest visit to Choose Your Attitude Podcast. A fantastic podcast that will warm your heart, make you laugh and hopefully have you subscribe to Nick's podcast.Click here to check it out.
Nick and I go back a few years as he is a cameraman for the video company we used to shoot our Soul2Soul tours. Great guy!
Back in 2017, Nick lost his wife, Brianna, to Cystic Fibrosis.  Nick started "Choose Your Attitude, Change Your Life", in Brianna's honor. He wanted to continue spreading the optimistic outlook on life Brianna had adopted since she was a young girl living with CF, Nick started his brand, authored a book, opened an apparel line and launched his podcast. Such passion!
When he initially asked, I will admit I was nervous. My first podcast interview…that's pretty big in my little musical mind, so I sat on it for a couple of days. But eventually, knowing how much fun it would be and I just love being a part of something so positively motivating that in the end it was a "no brainer". And as things go, it was  a piece of cake. So easy and natural that I realized afterwards, all the worry and stress I put into fretting about, "what am I going to say"?, "will it be interesting?", "what song will I sing?" , "will It sound okay?", "will I remember the words?", I haven't sang in the lead position in years, and a million other questions, were all self initiated. I created them. And if I were to have let them, those doubts could have stopped me from moving forward to accomplish this opportunity.
Well, I did it. and I hope anyone who listens will take away something from our conversation. Because I do believe we all will experience hard times…we're kinda experiencing a bit of that at the moment, #thankscovid19 ,  but in the words of Edwin Louis Cole " You don't drown from falling in the water, you drown by staying there." Choose to change the corse of your day, your situation, your life by first changing your thoughts. It can, does and will work, I promise.
Oh, and you can listen to a full-demo version of "Brightest Stars" being sung by my co-writer friend Quinn Loggins and a selection of other songs I've co-written at my reverbnation page.
Until next time, keep smiling and striving to do what's ripe.
Peace!
Deano